That's me up there. It's hard to recognize without the beard, I know, but even worse because of the sheer
What the hell is he doing?
of this picture? That's me, standing on stage, dressed in liederhosen, throwing up the Nazi salute. Anyone who knows me at all would be horrified at this picture...until they look slightly to the left, and see the six pigeons ALSO throwing up the salute. Then, well, the picture takes a different tone, and we find ourselves surpressing a chuckle. I mean, pidgeon Nazis? That's just ridiculous.
Over the past few months, I've been rehearsing and performing as Franz Leibkind in the musical adaptation of Mel Brooks' The Producers. The play concerns a washed up Broadway Producer and his accountant, who realize they can make far more money by putting a flop on Broadway than a hit. They set out to discover the world's worst play, and they find it in Springtime for Hitler - a play written by one Mr. Liebkind. What follows is one of the funniest experiences you'll ever have, and it 100% hinges on the bet that you'll laugh at one of the most terrifying and evil forces to ever goosestep their way across the Earth.
While I was playing Franz, the tech crew backstage would greet me every day with that same salute. The first time, I'll admit, I winced a little. But as it went on, we chuckled more and more each time that damn salute went up. I even ended up using it for my bows in the show. I kept thinking to myself, "Why is this ok? Why are we all getting together and laughing about a regime that killed thousands of people?"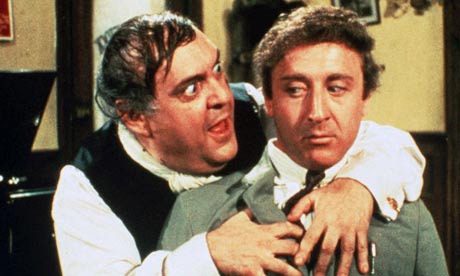 The Producers came to the screens in 1967. This was still only twenty years after the end of World War II. To many people, the Nazis had been the boogeyman in their closets - the very real threat that kept them awake at night as country after country fell to their relentless advance. In one of his very first movies, Mel Brooks chose to approach them in a different light. By putting on Springtime for Hitler, Brooks held the Nazis up to the light and proclaimed "Look how silly these people are! They look stupid, they dress stupid, and their ideas were ludicrous." And while the film was certainly controversial, it began a long trend of pointing at Hitler and laughing at him. The trend which culminated in videos like this:
In making The Producers, Mel managed to take something awful and terrifying and take away all of its power. These days, Nazis are more the cartoonish badguys of Hogans Heroes or Inglorious Bastards than the very real threat that was knocking at our doors. This is the power of comedy, to take something that terrifies us and take away it's power. This is why satire, from Charlie Chaplin to the Onion to South Park, is so very damned important. We need to keep our right to mock those who would frighten or oppress us.
HOWEVER.
Like all good ideas, this can and has been taken too far. Comedy has the power to take away our fears, but it also has the ability to strengthen them. Instead of bringing us together, it has the power to tear us apart. No where was this more apparent than this Halloween, where at least
two
people chose to dress up as a young man who had been shot to death because it was "funny." When you confront people like that, they take the above idea, that comedy is necessary because it helps us deal with real issues, and take it to an illogical conclusion. That
everything
should be funny, and that if you're offended, that's your personal problem.
This is, of course, ridiculous to any sane individual. Comedy works when it includes us, when we stand as a group and can laugh together at the objects of our scorn. Comedy does
not
work when it divides us. We cannot just say or do whatever we want and say "I meant it as a joke! Lighten up!" This is the shield that bullies hide behind to pretend they're decent people.
When you're going to make a joke, take a moment. Say to yourself, "Who will this offend?" It will offend someone, comedy always does. Now, take another moment, and say "Will the person being offended have a legitimate reason?" Two hundred years of history is a legitimate reason to be offended by blackface. Thinking of the family of a young man who was shot and killed is a legitimate reason to be offended. Don't make the obvious, defensive mistake and assume the burden of proof is on the offended. Take a moment and examine yourself, and decide whether what you did was really comedy, and not just being a bully.