San Diego Comic-con International, known to its friends as SDCC, or simply Comic-con, has been the biggest event in the Nerd World for more than forty years now. With the explosion of Geek Culture in the last ten years, the event has grown to mammoth size, drawing hundreds of thousands of people, and taking over the entirety of San Diego's Gaslamp district. For those heading to the convention for the first time, and even for those going for the fiftieth time, SDCC can be hugely overwhelming. With so much to see and do, how do you decide how to spend your time? We at the Ace of Geeks have taken the time to do some of that legwork for you, and put together a list of the best stuff to see and do at Comic-con this year.
The main event of SDCC is the convention itself. That's where you'll find most of the biggest happenings. If you managed to get a ticket, you'll want to spend most of your days checking out the panels and the wonders on display in the exhibition hall. Here's some highlights:
Hall H
If you've been to Comic-con before, you already know about Hall H. For you first timers, here's the deal: Hall H is the biggest panel room at the convention center. It's where all of the movie studios pull out their largest stunts and show their best footage. Last year, as pictured above, Tom Hiddleston showed up in costume and character as Loki, working the crowd into a frenzy for Thor: The Dark World.
The problem with Hall H is that everyone wants to get in. To make the trek to the legendary hall is to begin waiting in line at 6pm the day before, at the latest. You'll make lots of good friends in line, but you will be there for hours. Bring a chair, pillows, and things to do. The highlights of Hall H this year include The Walking Dead and Game of Thrones back to back from 12:20 to 3:00 on Friday, Marvel Studios at 5:30 on Saturday, and Supernatural, Sons of Anarchy and The Strain on Sunday. DC will also be showing the pilots of The Flash, Arrow, Gotham and Constantine on Saturday night at 8. If any of these are something you're interested in, prepare to camp out and try to spend the whole day in the Hall. It's the only way to be sure.
Ballroom 20
Ballroom 20 is Hall H's little brother. Take everything I said in the above paragraphs, and minus it by a few hours in line and a few less seats in the room. But don't miss The Legend of Korra on Friday at 11:15, and the biggest costume party of them all, the Comic-con Masquerade on Saturday at 8:30.
The rest of the panels are too numerous to count, but dive into the Comic-con scheduler
here
for more highlights.
EXCLUSIVES
Every year,
hundreds
of companies show up to Comic-con with exclusive products you won't be able to get anyone else. Pictured above is
Hasbro's
Knights of Unicron. It's four of the Transformers done up in 80s hair metal style, and it's amazing. Exclusives, like Hall H, have to be a focus of your stay if you're headed out to pick them up. Expect to wait in lines that start at 3am and having to run across the floor to the right booth. Get a map. Plan it out. And for god's sake, don't ask a friend to "just pick up an exclusive real quick."
Here's some highlights from this year:
Bandai
is producing a Legacy Dragon Dagger from Power Rangers in gold plate.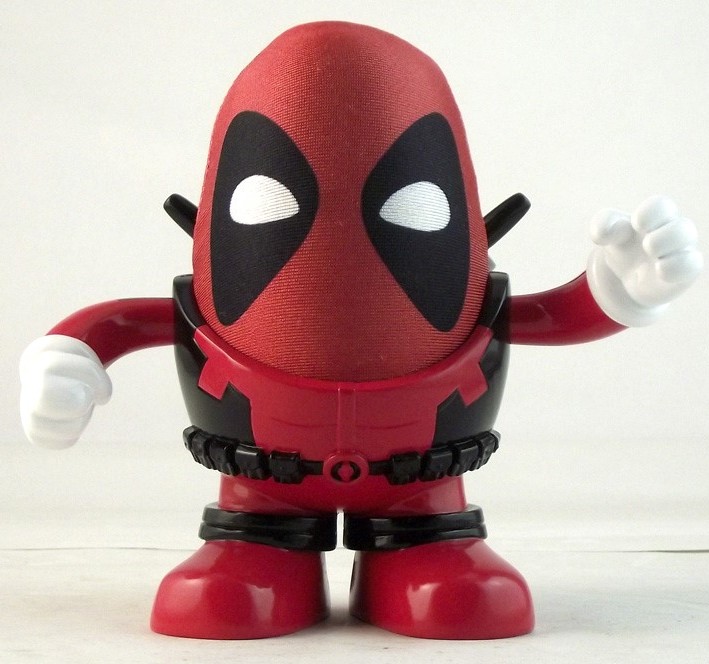 Hasbro,
in addition to the Knights, is putting out a Deadpool Mr. Potato Head.
Mattel
is offering this kick-ass figure of Doomsday in his outfit from his original appearance.
Keep in mind that the booths with the coolest stuff (Hasbro, Mattel) will have the longest lines. Hasbro usually has a line outside the convention center to get a ticket to get in line inside the convention center.
ARTIST'S ALLEY/THE COMIC BOOK SECTION
Look, it's called San Diego Comic-con, right? So you'd be surprised to find out that the least crowded part of the convention is always the artist's alley and the comic book area. Push way to both sides of the hall by the giant studio displays, these areas are always quieter, which is great for some rest, but also hold tons of untapped treasures. The art on display is beautiful, and I always come home with more prints than I can actually fit on my walls. And while you may not be able to afford that Action Comics #1, last year I came away with the first issues of Young Justice and Wolverine, both of which are now framed on my wall. Don't just stick to the eye-catching center of the con, head to the fringes and you'll love what you find.
OUTSIDE THE CONVENTION
It's Comic-con, and the fun doesn't stop when you leave the halls. Check out the coolest things you can do outside the center this year:
BORDERLANDS: THE PRE-SEQUEL: LASER TAG
The beautiful people at Nerdist Industries are taking over the top of Petco Park, the giant stadium next to the convention center, this year. They're turning it into a laser tag arena, with guns and scenery themed around the newest Borderlands game. This is the number one stop on my list, it sounds so much damn fun. They promise special guests from the world of Nerdist and from TV and film will be showing up unannounced throughout the day to play, so keep an eye out, that might have been Chris Hardwick who just shot you in the back.
THE ASSASSIN'S CREED OBSTACLE COURSE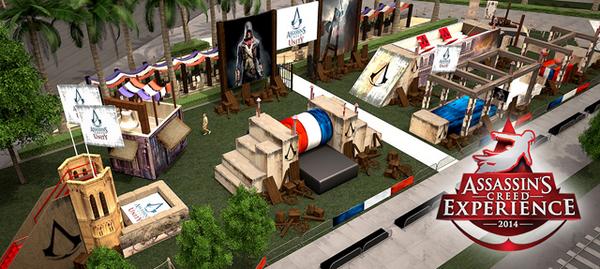 The last few years at SDCC, Assassin's Creed has parked a ship out in the harbour to advertise their newest game. Since the series is moving away from life in the sea this year, they've decided to instead create a parkour themed, damned-near impossible obstacle course for you to kill yourself on, right in front of the convention center. This Ninja-Warrior-looking piece of equipment is only conquerable by the best, so make sure to get your running shoes and take off that Iron Man cosplay before you attempt it.
NERD HQ
Jarys's friend (no, really) Zachary Levi, from Tangled and Chuck, will once again be hosting his Con-just-outside-the-con, inside Petco Park. This weird and wonderful fundraiser is an additional fee on top of your Comic-con badge, but it's worth it for intimate panels with the likes of Nathan Fillion, Craig Ferguson and the cast of The Giver.
The Geek and Sundry Lounge
Jolt n Joes in the Gaslamp District will be the home of the Geek and Sundry Lounge, a geeky and wonderful little bar and relaxation area. While the main draw for some will be appearances from Felicia Day and Wil Wheaton, the lounge itself is also a damn fine place to put your feet up and get some downtime after laser tagging all day.
There are sure to be tons more events in the Gaslamp District - last year there were giant, theme-park level displays for Godzilla and Ender's Game. If you want a cool experience, just wander around, you'll find one.
NIGHTLIFE
The Convention center closes around 6, and most of the events outside shut up and go to sleep around then, too. But that doesn't mean you have to. Comic-con has a ton of things happening at night, including exclusive parties and concerts. In the last few years, I've met people like Bruce Timm and Chris Hardwick just by walking up to hotel bars with my friends. But beyond that, here's some special events you will need to get tickets to:
Welcome to Nightvale/The Thrilling Adventure Hour
We've discussed the greatness of both of these shows on the podcast before - Nightvale and The Thrilling Adventure Hour are both hilarious, slightly crazy shows. And this year at Comic-con, they're doing a crossover event. Even if you've never seen either show, this event will have you in stitches. Highly recommended. Saturday at 8pm at the Sprekels Theater
The Nerdist Podcast
The Nerdist Podcast is usually an interview show with whatever big celebrity Chris Hardwick can find to come and chat with him, and so sometimes is not all that nerdy. At Comic-con, however, he pulls out all the stops and finds someone for the geek crowd. This year is no exception, with appearances from CM Punk, Evageline Lilly and Michael Rooker. Saturday at 7 and 10:30 at the Balboa Theater.
Wil Wheaton, Adam Savage, Paul and Storm. This unholy quarter, plus some special guests, will once again be putting on a concert/talk/dick joke hoedown at Comic-con. I always make it a point to see these guys when they manage to find the time to get together, and it's always worth it. They can stretch from hilariously funny to kind of touching in the same show, and the myriad of different personalities on display makes it worthwhile. Last year, their surprise special guests were George R. R. Martin and Neil Gaiman, so who knows who will pop up this year? Thursday at 7 at the Balboa Theater.
So there you have it - all of our recommendations and tips for Comic-con. Here's the most important one: Enjoy yourself. Don't get stressed about doing everything. There's too much going on, and you will miss stuff. Have fun with the things you can do, and if you can't find anything to do, find some friends and relax. That's what Comic-con is really all about.
Well, that and exclusives and lines and celebrities and comic books and...
Mike Fatum is the Editor-in-Chief and Podcast Co-host of the Ace of Geeks. He lives in San Francisco, and won't be going to Comic-con this year, so you'd better all have so much fun he feels it in Northern California.
Did you enjoy this article? Follow us on Facebook to get more great content! We have a weekly podcast you can find on our main site. Also follow us on Twitter and Tumblr!